When I delivered my first baby I stepped on the hospital scale and was floored! I couldn't still weigh that much, could I?!  In the past 9 months I exchanged vanity, my youthful figure and my favorite yoga stretches for ever expanding hips, aching relaxin laden knees, a new stiffness in my back, and my non existent breasts to take on a life of their own (much to the delight of my young husband!)

I had slowly acquiesced to the thought that my body was indeed changing and would continue to change after my baby arrived. However, an emergency and urgent C-Section tore my body in places I wasn't expecting and fractured parts of my birth plan I did not adequately prepare for.
According to new research from the World Health Organization (WHO), caesarean section use continues to rise globally, now accounting for more than 1 in 5 (21%) of all childbirths. This number is set to continue increasing over the coming decade, with nearly a third (29%) of all births likely to take place by caesarean section by 2030.
Unfortunately, the doctors cut up into my obliques to remove my baby who had lodged under my left hip in attempts to descend. This left me with a difficult recovery (the recovery from abdominal surgery on top of caring for a newborn is strenuous enough) and changed my first months of motherhood drastically.  

I was deeply grateful for oxytocin, called the "bonding hormone," which  flooded my system every time I nursed.  This was a saving balm mentally, physically and emotionally in the healing months to come.

My doctors later diagnosed my body with androgynous hip disproportion from my congenital birth deformity - called hip dysplasia.  To put it simply; no matter how small my babies were (my second was born full term at 5 lbs 11oz) I would never have a vaginal birth.
"Caesarean sections are absolutely critical to save lives in situations where vaginal deliveries would pose risks, so all health systems must ensure timely access for all women when needed," said Dr Ian Askew.

I was comforted to know that my body and baby were safely delivered in the most medically advisable way possible, and yet I felt traumatized and devastated.  The thought of a home birth in a luxuriously private water bath with only my midwife and husband supporting me that I had previously envisioned were no longer a possibility.  

Between my high prolactin production, lack of progesterone, lower dopamine, and other decreasing pregnancy hormones riddling my body; my energy, moods, and emotions were knotted and tangled after having my first beautiful daughter!

"Some of your hormones go from the highest they ever will be to the lowest, just before delivery to just after," says Ann Dunnewold, a Dallas psychologist and co-author of Life Will Never Be the Same:The Real Mom's Postpartum Survival Guide.
Regardless of how you deliver, immediately after giving birth, your estrogen and progesterone levels drop dramatically, which can contribute to the "baby blues".

The Cleveland clinic describes baby blues as, "frequent, prolonged bouts of crying for no apparent reason, sadness, and anxiety. It usually begins in the first week (one to four days) after delivery. Although the experience is unpleasant, the condition usually subsides within two weeks without treatment and affects between 50 and 75% of women after delivery."
After experiencing such a traumatic  and unplanned delivery, I felt my emotional state would never be restored. Ann Dunnwold shares, "when oxytocin goes up, so can anxiety. These hormones influence one another in a complex dance and affect your energy and mood," she explains.  Your body could use more progesterone, which is a natural anti-anxiety substance, but it's low right after birth. "So you can see how that combination can lead to postpartum anxiety and depression."

The postpartum depression and anxiety symptoms of hopelessness, inability to find joy, anger, easily frustrated with myself, exhausted but unable to sleep, and strong feelings of inadequacy set me on a roller coaster I was dreading.  
Visit Birth Made Mindful's Website to enroll in The Fourth Trimester which covers Postpartum Depression, Anxiety and Psychosis.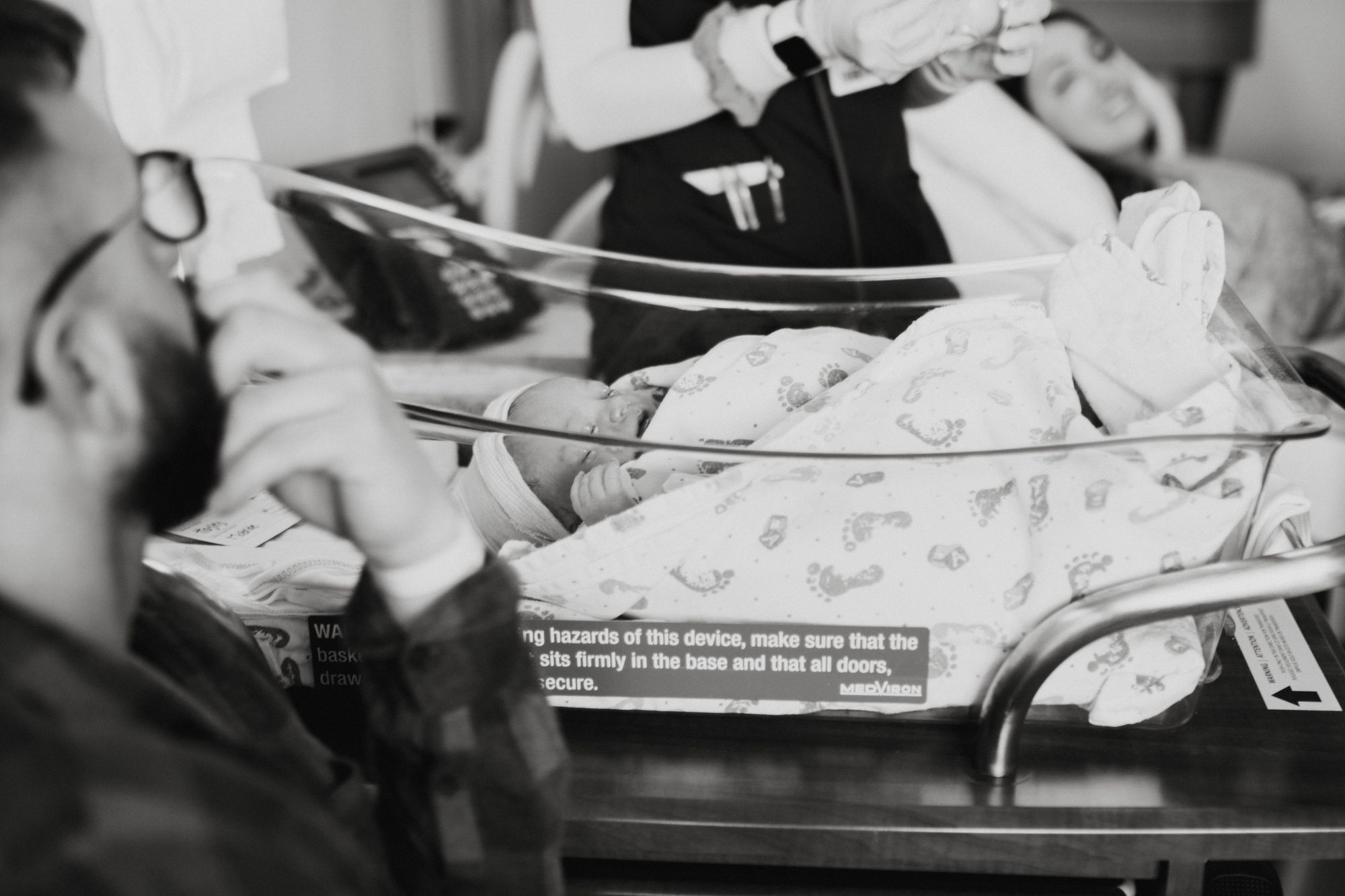 Because I had experienced depression before pregnancy, I knew I was 30% more likely to experience postpartum depression and I felt adequately prepared to discuss my options.
My care team in the hospital mentioned this might also occur due to the traumas from delivery and sent a home nurse to counsel and guide me through a personal treatment plan as my hormones eventually leveled out.  This included medical prescriptions, talk therapy, an increase in physical exercise(once I was fully recovered from my C-Section).  I was also advised to consume whole, healthy fruits, vegetables, grains and lean protein and plenty of support from friends and family.

In all its complexities, beauties, and nuances,  I've learned the miraculous morphogenetic transformations of a mothers body is truly universal. The bond that unites women is as powerful as the babies changing our brains, bodies and most importantly our hearts.
Through our increased abilities to selflessly care for those who are birthed from our magnificent bodies, may I stand in solidarity and offer you my warmest pair of stretchy pants!
Article by Christina Packard
Christina is the mother of 5.  She is a writer and educator for Made Mindful, LLC. Along with gardening, embroidery, and playing the piano and trumpet, she finds thrills in anything DIY or craft related.