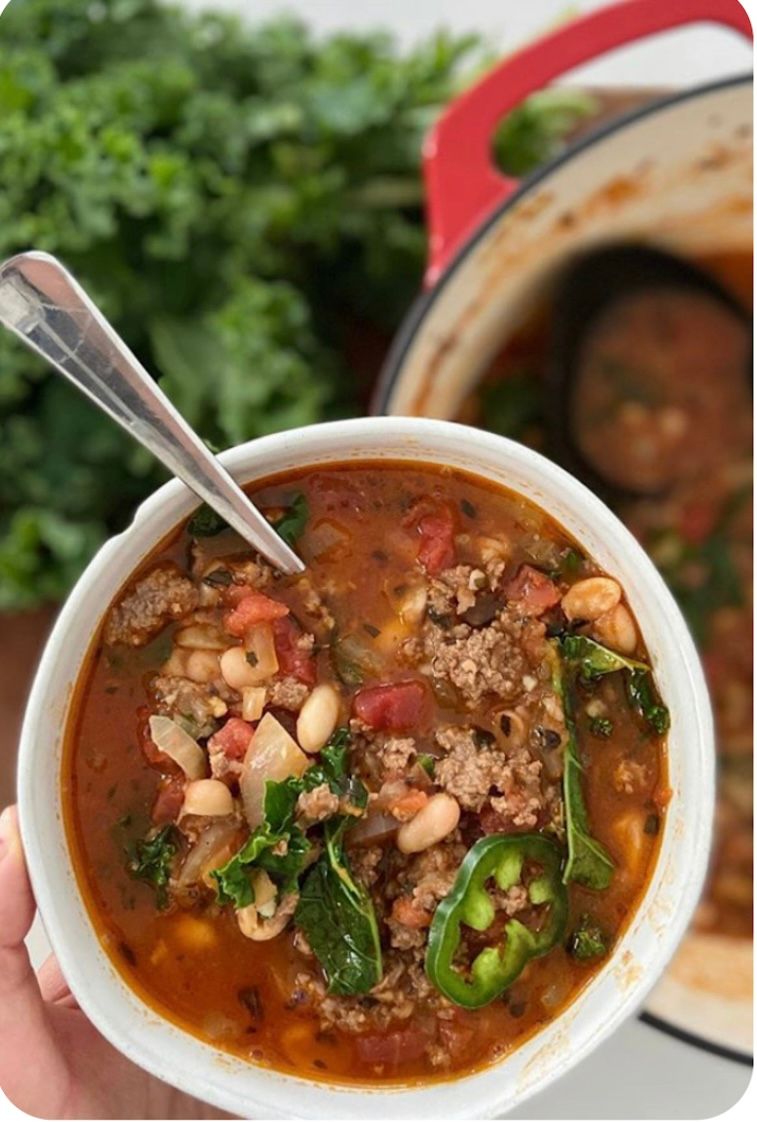 Tuscan White Bean Soup
NUTRITION: Serving Size: 1 Calories: 543 Carbohydrates: 23g Protein: 49g Makes: 4

Ingredients
1-2 Tbsp oil
½ large white or yellow onion, diced
1 lb of ground beef, turkey, chicken or bison
3 Tbsp tomato paste
1 (15 oz) can diced tomatoes
1 quart broth (or water)
2 Tbsp Italian seasoning
1 (15 oz) can white beans or lentils (canned), slightly drained (double the amount if making it plant based)
4 cups kale (or other sturdy green), chopped
*optional: minced parsley, vegan parmesan cheese, red pepper flakes

Directions
Heat a large pot over medium heat. Once hot, add oil. Let heat 30 seconds. Then add onion and a healthy pinch of salt and pepper and saute until soft. Brown preferred meat (5-8 min). Add tomato paste and diced tomatoes, broth, Italian seasoning and stir. Add (drained) beans or lentils. Lower heat to a simmer for about 10-15 minutes. Add kale and a pinch of salt and pepper, then stir. Cover and cook for a few minutes more, or until kale is wilted but green. Serve hot, garnish with fresh minced parsley, vegan parmesan cheese, and red pepper flakes (all optional). To freeze, place in freezer safe ziploc bags and lay them flat. To thaw, place frozen bag in another container in fridge.
* If plant based, omit the meat and double the amount of beans or lentils.

Quick Postpartum Recipes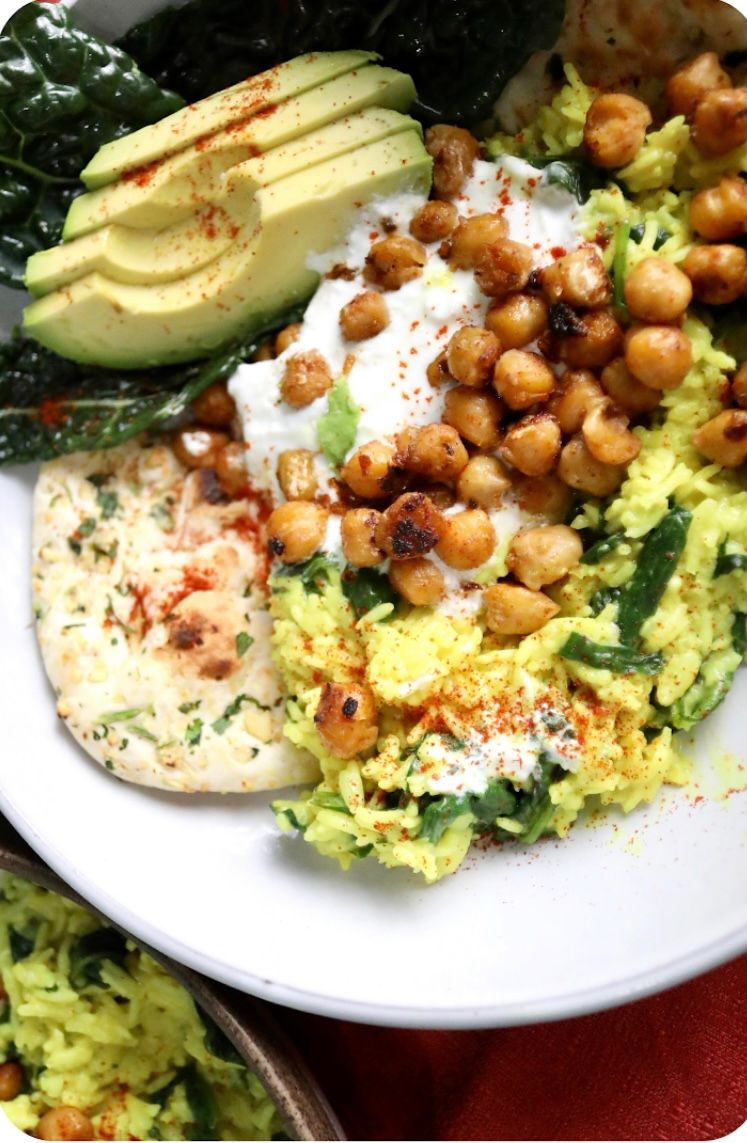 Indian Turmeric Rice & Chickpeas
NUTRITION: Serving Size:1 Calories: 1082 Carbohydrates: 148g Protein: 42g Makes 6

Ingredients
1 Tbsp salted butter (using vegan butter or olive oil, if desired)
1.5 tsp turmeric powder
1 tsp cumin powder
1 ½ cups long grain rice, such as jasmine or basmati
1 can full fat coconut milk
2- 2 ½ cups low sodium vegetable or chicken broth
2 cups roughly torn greens such as kale, chard, or spinach
¼ cup extra virgin olive oil
1 can chickpeas, drained and patted dry
½ tsp ground ginger
*optional: naan bread, Greek yogurt, hot sauce, avocado, and sauteed kale

Directions
First cook your rice either in rice cooker or over stove. Stove: First melt the butter, add the turmeric, and crushed red pepper flakes in a medium pot over high heat. Add the rice and toss to coat. Stir in 1 ½ cups of broth, coconut milk, and a pinch of salt, bring to a boil. Add the greens on top of the rice, but do not stri. Cover with a lid and cook on low for 10 minutes then turn the heat off completely. Rice cooker: Place all ingredients in rice cooker, combine and top with greens. Turn on and rest of recipe as follows. Let the rice sit, covered, for another 10 minutes. Add up to ½ cup broth or to your preference. While rice cooks, make the chickpeas. Heat skillet over medium heat. Add the oil, chickpeas, ginger, a pinch of red pepper flakes and salt. Cook, stirring occasionally until the chickpeas are crisped (8-10 minutes)
To serve, divide rice among bowls, top with greek yogurt and other preferred toppings.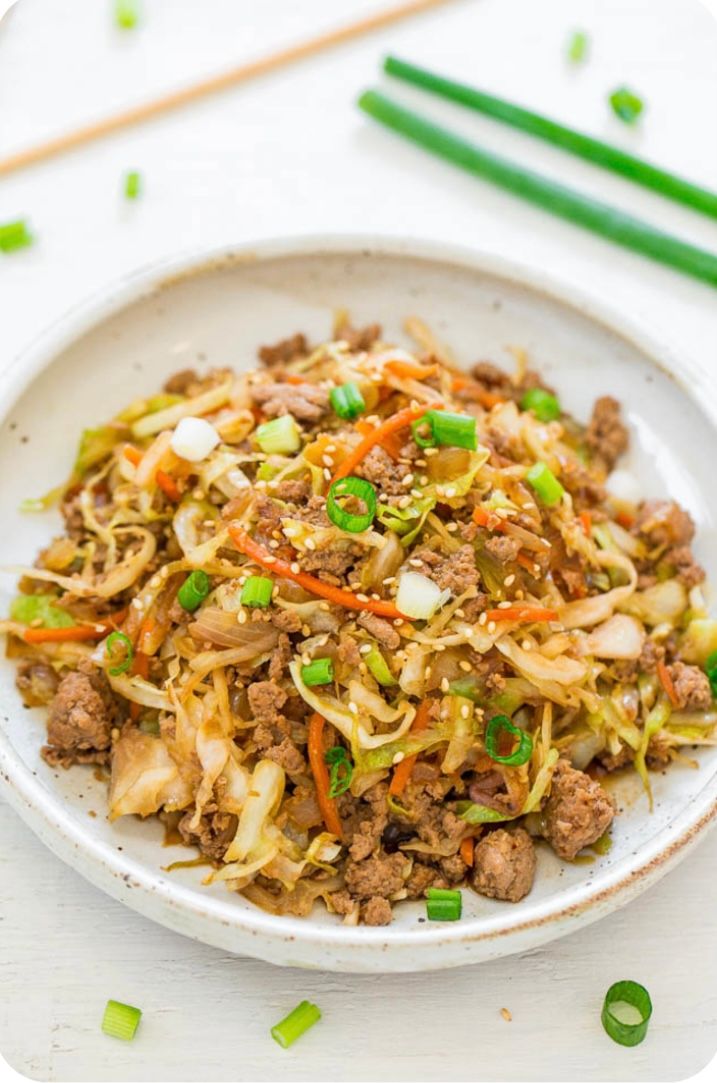 Egg Roll In A Bowl
NUTRITION: Serving Size: 1 Calories: 420 Carbohydrates: 11g Protein: 22g Makes 4

Ingredients
1 lb (16 oz) ground pork or beef
1 tsp minced garlic
14 oz shredded cabbage or coleslaw mix
¼ cup low-sodium soy sauce (or liquid aminos)
1 tsp ground ginger
2 tsp Sriracha
1 whole egg
1 Tbsp sesame oil
2 Tbsp sliced green onions

Directions
In a large skillet, brown the pork/beef with garlic until no longer pink. Drain excess oil. Add the cabbage/coleslaw, soy sauce, ginger, and saute until desired tenderness. Make a well in the center of the skillet and add egg. Scramble on low heat until done. Stir in sriracha. Drizzle with sesame oil and sprinkle with green onions. Enjoy!
"Natalie Soeter is a Cornell Certified Health Advocate and private chef in Los Angeles." @nataliesoeter healthychefnatalie@gmail.com