Birth Story shared by Kati Pribyl
I was worried I wouldn't be able to get the chance to labor. Our baby (surprise gender) has a Diaphragmatic hernia, which caused my pregnancy to be considered "high risk". I was being seen at a fetal center by a neonatologist two times weekly since 23 weeks for 1 1/2 months and then was able to only go in weekly. My doctor was so worried that she would start to get sick and it would be an immediate TOLAC/C-Section depending on how babe did during labor.
At my 38 week appointment my doctor decided to send me over to be induced because babe was starting to show signs of being sick. I had an induction date scheduled for the weekend anyways so we were just going to meet babe a few days earlier!
August 1 - Admitted @12pm
Pitocin started @1:30pm
Bounced on yoga ball and did some exercises
6:38 pm cervix still closed
7:19 pm Shift change, got a better nurse
9:45 pm foley bulb placed, 60/70% effaced, .5-1 cm dilated
10:20 pm Zolfran for nausea, contractions picking up
11:15 pm tighten foley bulb
In and out of sleep
12:50 am tighten foley bulb
1:43 am 3 cm and 60/70% -3 station, foley bulb out
2:00 am higher dose Pitocin 6
3:00 am higher dose Pitocin 8
3:40 am higher dose Pitocin 10
4:17 am broke water, 3.5-4 cm and 70% effaced -3 station
5:00 am strong contractions, vocalizing, changing positions a lot
5:40 am request laughing gas
5:45 am contractions for 1 minute, 2 min apart
Lots of counter pressure on hips
5:50 am laughing gas administered, ended up not liking it after a few different breaths, made the pain worse for me
6:15 am 5 cm dilated
7:00 am IV administered fentanyl
7:25 am begin pushing
7:34 am BABY GIRL 💕
8:07 am methergine shot for bleeding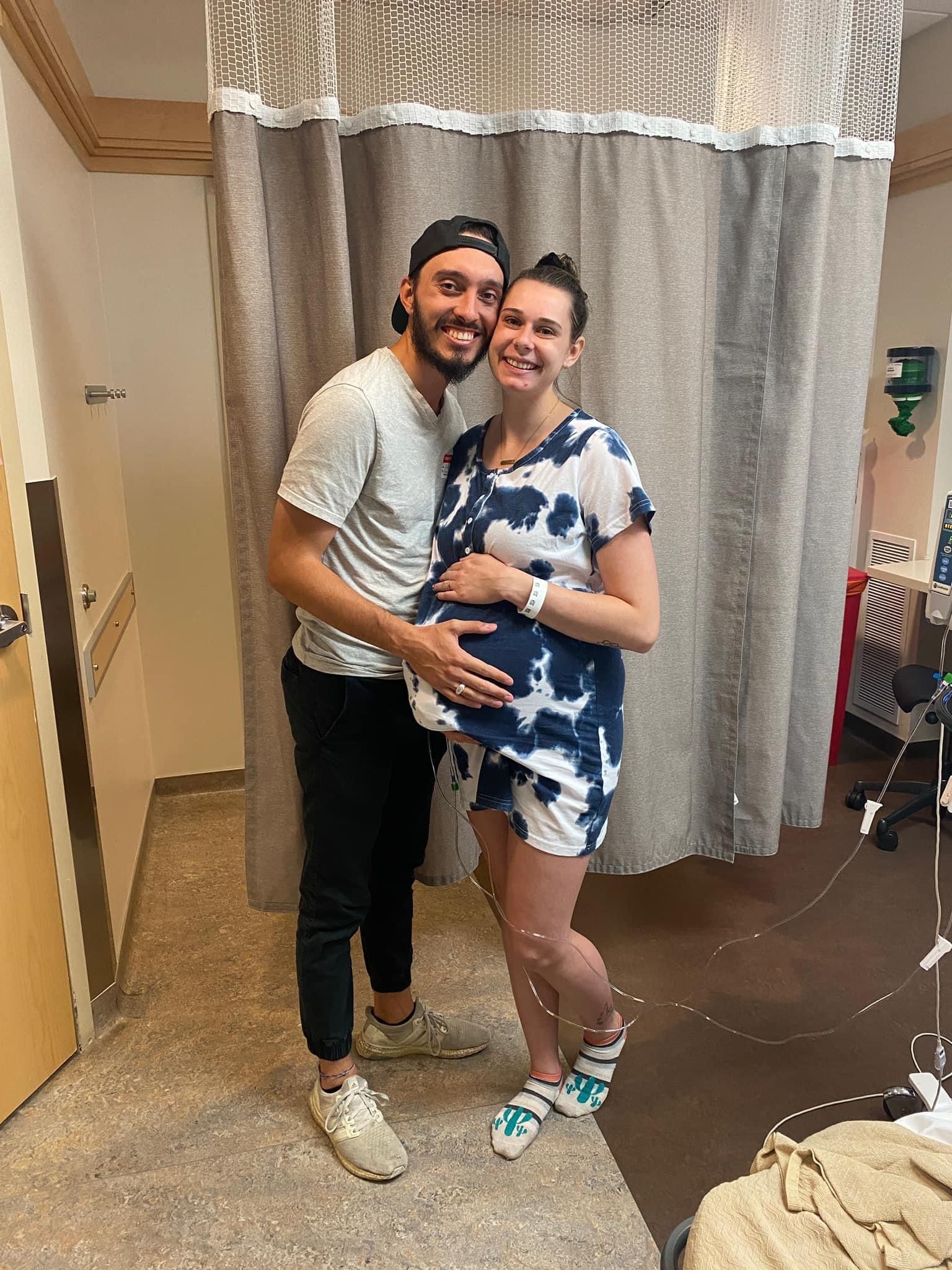 After placing the balloon, I felt crampy, contractions about every 6 minutes lasting 20-30 seconds. Tried to nap on and off. Once the balloon came out, the OB broke my water. Once my water broke, contractions immediately picked up. They got stronger and more intense. I got on my elbows and knees and started moving through them. Once they got stronger, My husband started counter pressure on my hips and a heat pad on my lower back. I tried rolling my chest on the yoga ball, I didn't like that much so I went back to all fours on the ground until the contraction let up. I asked for gas. I would use that every so often but found it wasn't helping me much and baby didn't like it. I needed to use the bathroom. Once I was finished another one started. I did a forward bend and placed my hands on the ground and vocalized through it. I got back onto the bed and propped myself on some pillows. It was getting really painful so I asked for fentanyl through my IV. I tried to labor on my back with counter pressure of my legs being pushed into the bed, hated that. I labored in tabletop/child's pose for what felt like 20 minutes. Fluid was leaking out and at first made me uncomfortable but I soon didn't care. After more time of intense, strong contractions and vocalizing a ton. I started to feel shaky and a lot of vaginal pressure. My body started pushing on its own, which felt better but I knew I shouldn't so I tried my best not to push. I then told my nurse that I feel babes head trying to come out. They told me I was just getting closer and they could check my cervix again to see how far dilated I was. I was only 5cm 40 minutes before. Baby's heart rate was dropping and they tried to get a doctor in to place an internal monitor because the belly ones weren't getting baby's heart rate. They flipped me on my back, which I didn't really want because it hurt. They noticed babes head WAS right there! I flipped back on my arms and knees and with each contraction I pushed. I could feel the ring of fire and the pressure babe put on my cervix/vaginal opening. I could feel the OB press my opening around babes head to try to help stretching and pushing her out. I tried and pushed as hard as I could squeezing My husbands hand to help me push harder. I kept telling myself, this will be the time, I will get this baby out! My contraction would stop and I would have to relax my pelvic floor and try again on the next one. I counted 6 total contractions/pushes until babe made their entrance. First her head and immediately after her whole body slid out. Weirdest feeling in the world. I immediately felt relief and relaxed. The OB says, dad what is baby, he said, "We have a baby girl!" My husband was able to cut the cord before they took her over to the NICU window. I felt the cord hanging out and the OB clamping things and trying to deliver the placenta. I felt a little bit of pressure, and the placenta slid out. The OB looked for tearing placing gauze all around. They couldn't see much so they had me lay on my back, much comfortable this time around. She checked and checked and said, "No tears!" The nurse then pushed on my stomach. They were worried I might have hemorrhaged, but I was just bleeding a little too much. The nurse gave me a methergine shot to help. My husband came back from being with our baby girl. About an hour later she helped me to the bathroom, I mostly walked on my own. I got back into the bed and waited to hear back from NICU to see when I could go meet our baby girl.
Birth Story shared by Kati Pribyl
For more on pregnancy and birth preparation, check out Birth Made Mindful